Het video vergadersysteem dat jouw online meeting nog persoonlijker maakt
De MVC S60 room kit omvat de SmartVision 60 360° all-in-one intelligente camera, MCore Pro mini-PC, MTouch Plus touch panel en WPP30 draadloze presentatie pod om hybride maar hoogwaardige gesprekken en samenwerkingen mogelijk te maken. Hét Microsoft Teams Video vergadersysteem voor middelgrote ruimtes.
PRODUCT BESTELLEN? NEEM NU CONTACT MET ONS OP
360° 10K panoramische groothoekcamera
Met de 360° dekking en het midden-van-de-tafel perspectief, zal niemand in de kamer aan het oog worden onttrokken. De gloednieuwe 10K-camera levert verbluffende beelden met veel meer detail. Deelnemers op afstand kunnen nu een meer inclusieve vergaderervaring krijgen, zelfs als ze er niet bij zijn.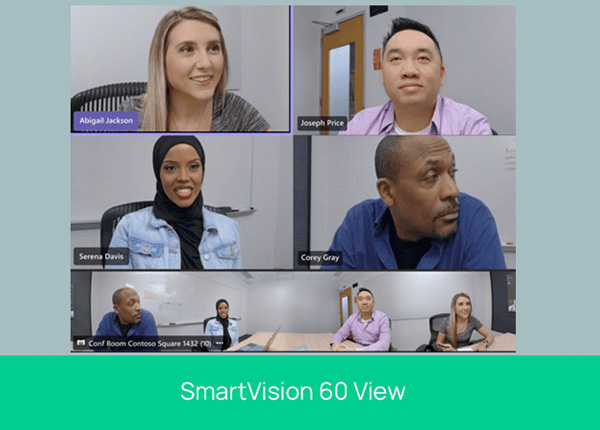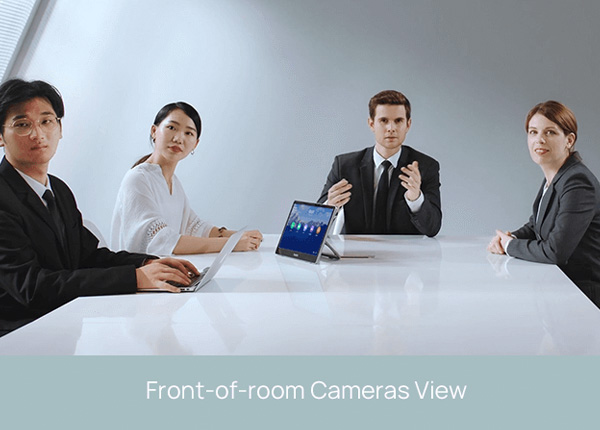 Multi-Stream People Feed Functie
De functie Multi-Stream People Feed creëert individuele videofeeds van vier actieve sprekers in de kamer en voegt deze samen, zodat het panoramische beeld van de kamer tegelijkertijd wordt weergegeven. Dankzij deze functie verschijnt iedereen aan de vergadertafel glashelder in het midden op het scherm. Gezichtsuitdrukkingen en lichaamstaal worden niet meer genegeerd, zelfs niet in een hybride vergadering. Elk gesprek is levendiger dan ooit.

Intelligente spraakassistent en transcriptie
Met twee sets multifunctionele microfoons dekt de SmartVision 60 gemakkelijk een audiopick-up radius van 6 meter vanuit alle hoeken in middelgrote ruimtes en ondersteunt het intelligente audiofuncties.
Beheer vergaderingen handsfree
Blijf verbonden met externe teams, zelfs als je je handen vol hebt. Vraag Cortana om deel te nemen aan een vergadering, een bericht te sturen, een bestand te delen en meer.
Automatiseer het maken van notities
Ontvang hoogwaardige automatische spraak-naar-tekst transcriptie met sprekers geïdentificeerd door hun naam. Je hebt geen extra tijd nodig om je notities over te typen en te reorganiseren.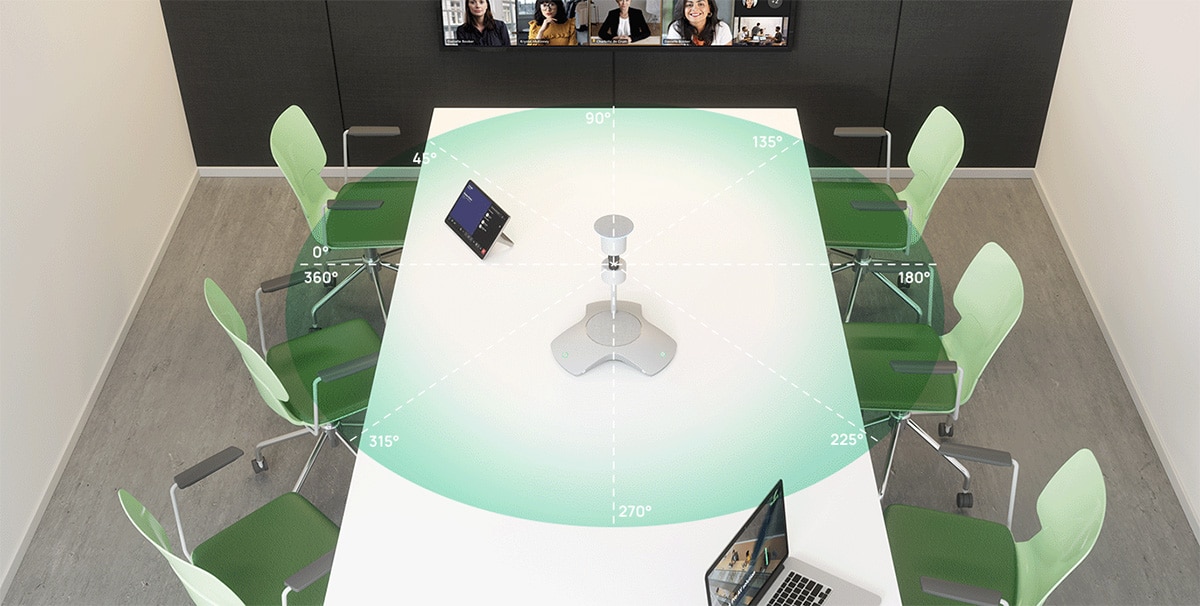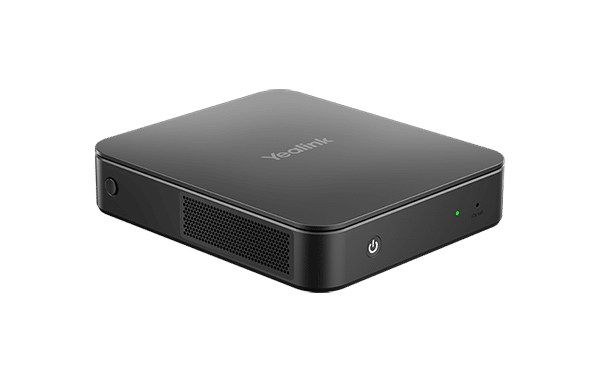 Een meer professionele mini-pc
Krachtige en veilige prestaties
Krachtigere CPU, snellere verwerking en rijkere AI-functies.
Drie beeldschermen worden ondersteund in vergaderruimtes.
Geautomatiseerde displaycontrole en signaalaanpassing via CEC en EDID-codec.
Eenvoudige aansluiting met gegevensoverdracht en voeding geïntegreerd in één CAT5e-kabel.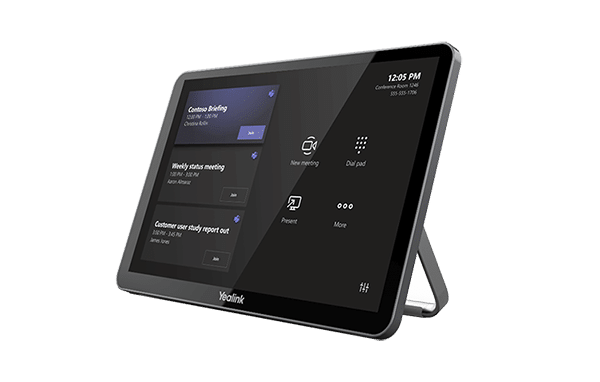 Meer dan een touch display
Meer flexibele functies
Nieuw ruim 11 inch scherm voor beter zicht en gemak.
Uitgebreide opties voor het delen van 4K-inhoud door koppeling met Yealink WPP30 draadloze dongle voor delen of verbinding met Airplay, Miracast of Google Cast.
Meerdere touch panels in dezelfde ruimte voor flexibele samenwerkingsbehoeften.
Installeer op de muur of tafel om aan de behoeften in verschillende ruimtes te voldoen.
Yealink MVC S60 Specificaties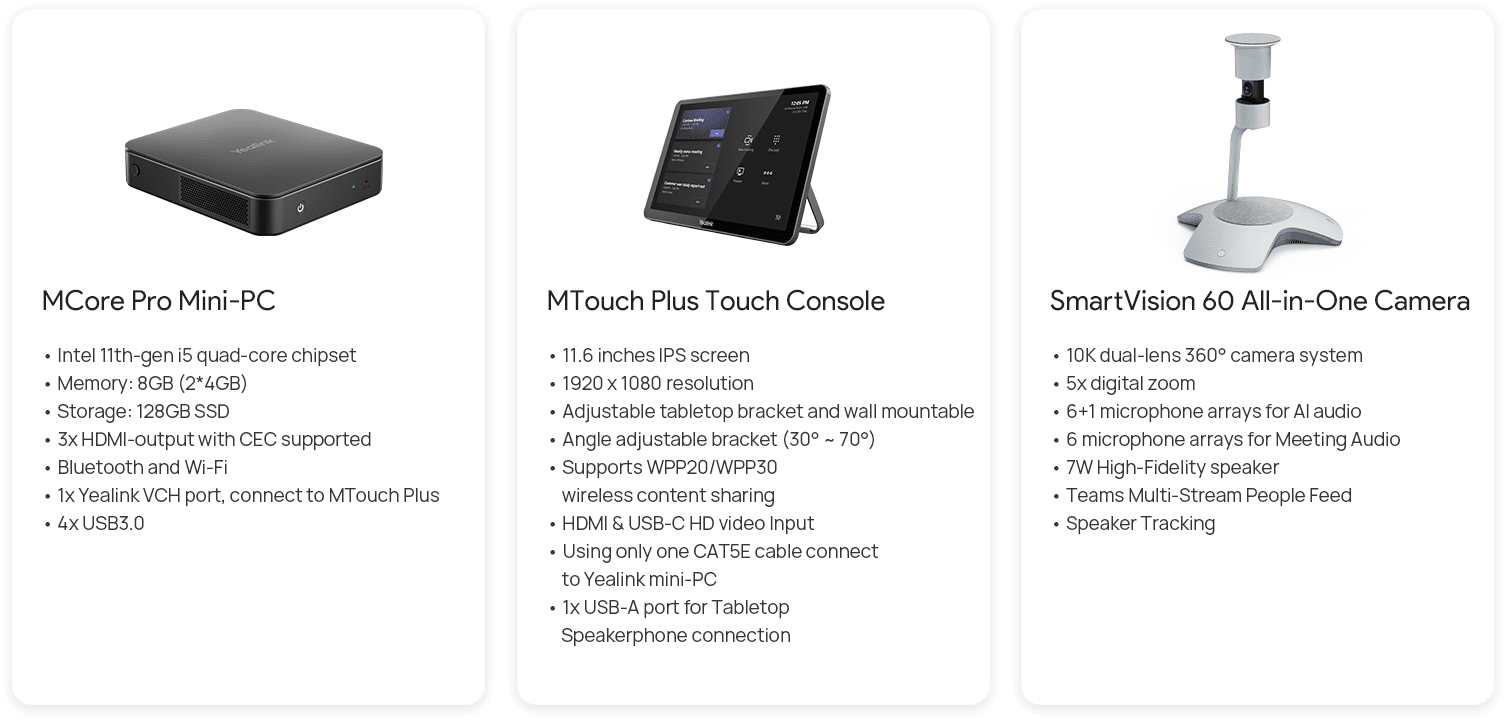 Deel deze pagina, kies je platform
Neem contact met ons op voor de scherpste prijs
••
Jouw bedrijfsruimten klaarmaken voor de toekomst? Ik geef je graag een advies op maat! - Theo